Certific's new lateral flow certification system makes testing more affordable, robust and convenient for UK holidaymakers
25 August, 2021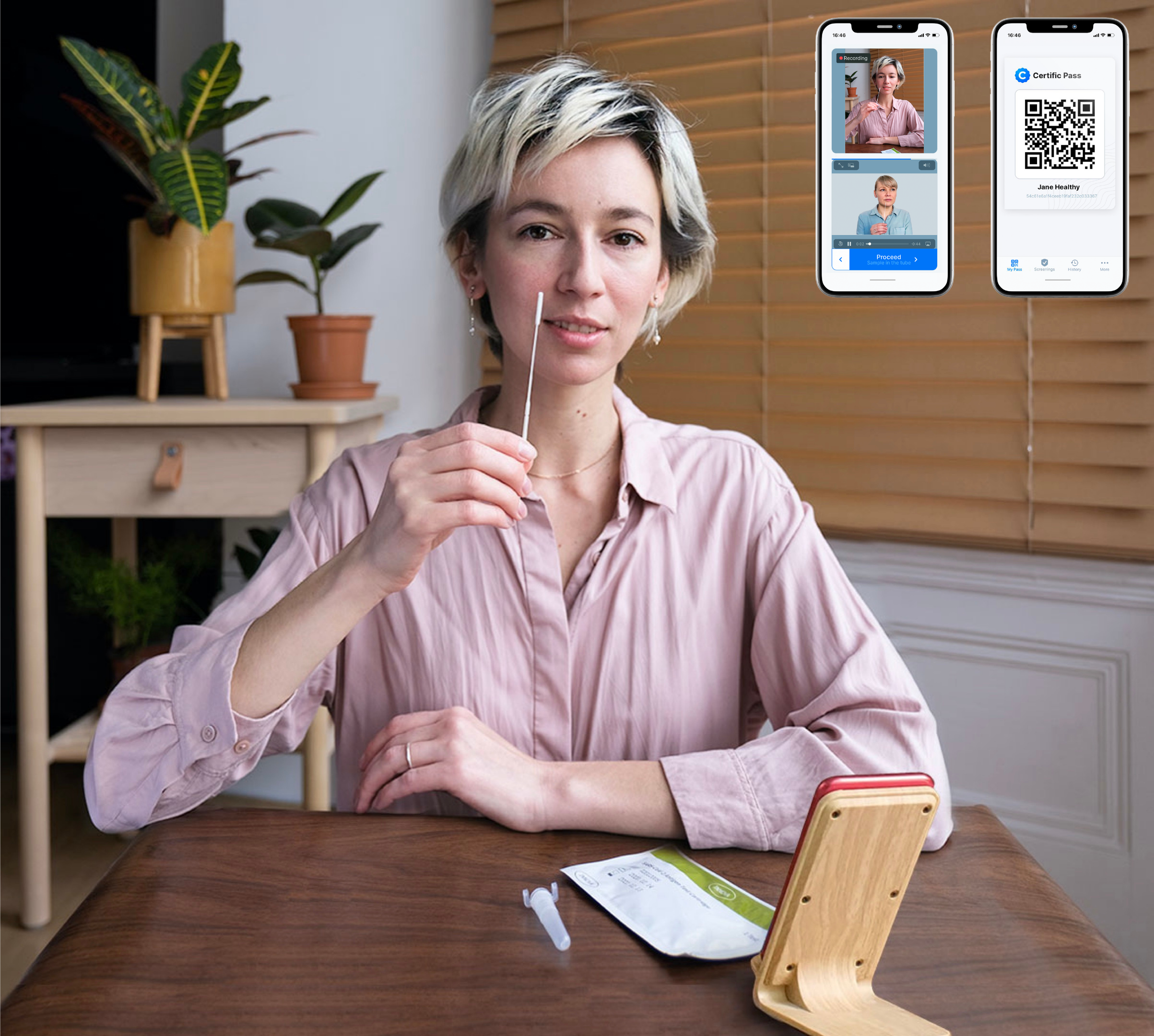 We've launched our latest service in the UK! The new Digital Travel Certification for Lateral Flow Self-Tests will allow holidaymakers and travellers leaving the UK to carry out verifiable rapid antigen (lateral flow) tests at home, and receive a test certificate and QR code on their phone before travel.
The technology brings a number of benefits to users, including cost-effective, private, and more reliable testing service ahead of their holiday.
Once a user has obtained a qualifying lateral flow home test kit from a U.K. approved manufacturer, they download the Certific app, which can be used on most modern Android and iPhones and is also available for desktop applications.
To verify their identity, users need to upload a photo of themselves to the app, along with their date of birth, home address, passport details, and report on their vaccination status.
Then, following a step-by-step guide from the app, users take the test while the app records them. The video of the test, along with the result is verified by Certific's medically supervised test control officers.
If the test result is negative, a certificate valid for travel and QR code is created in the app and also sent to the user's email within four hours.
Those who see and report an apparent positive result are given the recommended advice at the moment the test is complete, followed by an official report and support from a dedicated patient team led by experienced doctors. All results are automatically reported to Public Health England.
Certific offers testing services in partnership with Dr Jack Kreindler Consulting Ltd, a government authorised provider in the UK trading as Certific. Dr Jack Kreindler, an Honorary Research Fellow at Imperial College London in computational modelling for public health and Covid, is the Medical Director and co-founder of Certific.
"The UK NHS free lateral flow home tests programme is generous but can't be professionally certified in an affordable way, may not continue indefinitely, and can't be used for pre-travel testing," explains Dr Kreindler.
Dr Kreindler also highlighted other problems with current test verification, including those done at home, such as the risk of tests being tampered with, misadministered, users getting other people take the test on their behalf or reporting false results, in order to obtain the desired test result.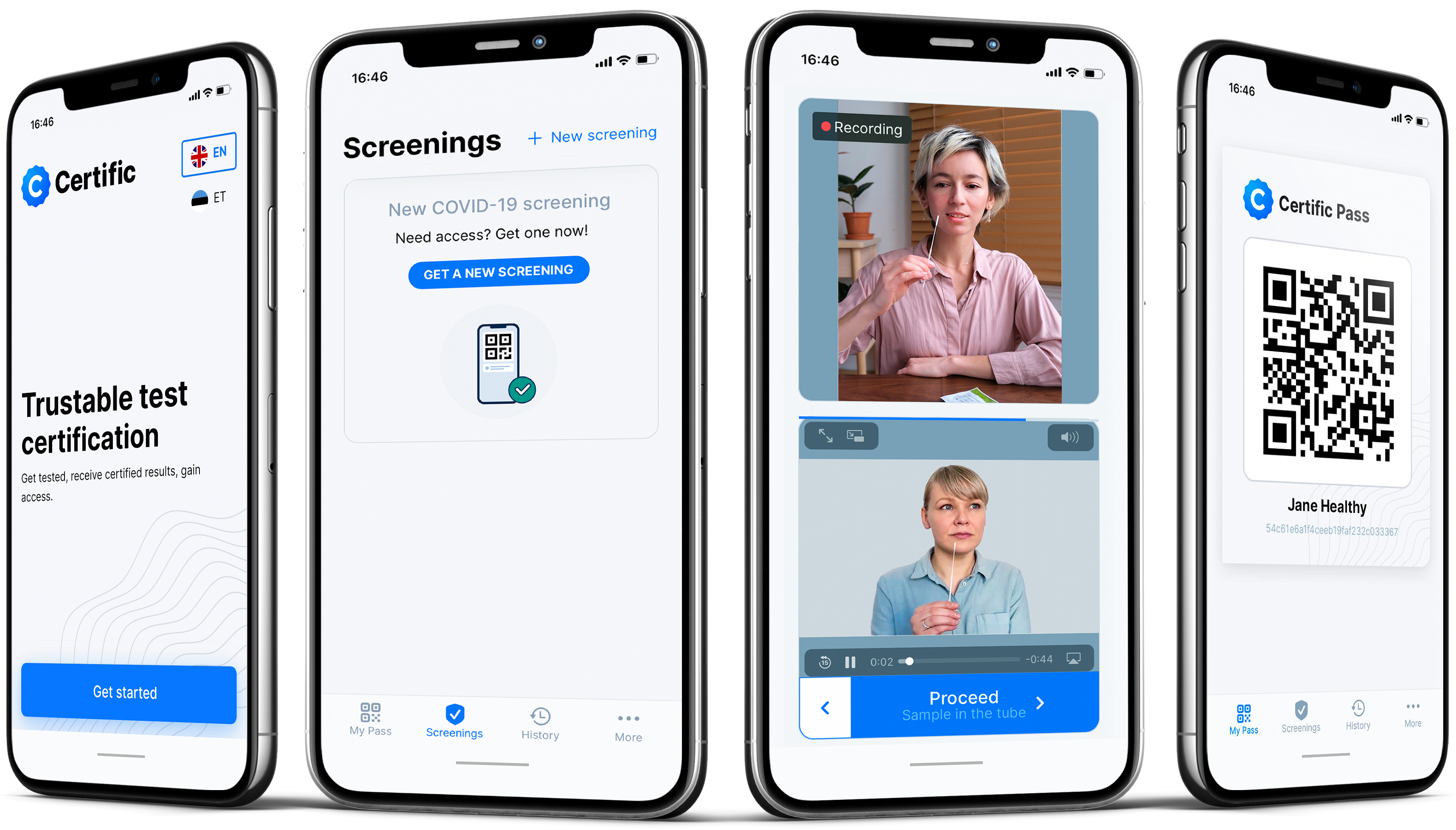 With Certific, these risks are mitigated, as the video, which cannot be paused once recording has started, captures the person taking the test.
"With our system, people have a convenient, private, and quality assured home-based experience. Our system independently verifies the person, process and results ensuring people can board their planes, and cross borders, safe in the knowledge they have taken the test correctly and hold a valid negative test result," says Dr Kreindler.
Certific is fully compliant with GDPR data privacy, with photos and videos deleted within three months or sooner if a user requests it and a private copy of the medical record maintained thereafter only by the healthcare provider.
Liis Narusk, Co-Founder and CEO of Certific, explained that they launched their first service, an app-based Covid PCR test verification and certification service in February this year. Since then, over 20,000 people have used the service.
"We're decentralising the testing experience for users, making it more akin to a doctor testing you at home, but without the cost. It means that money and time is saved on needing to create and maintain testing centres, along with the time and costs needed to staff them, and the cost to the user for our verification service is only £14.99, compared to other more expensive providers.
"There are some providers offering verification services in real-time over video call, but this approach is impossible to do at scale," says Ms Narusk.
She adds that it's important for holidaymakers to keep up to date with ever-changing travel requirements which vary from country to country, so that they take the required tests appropriate to the holiday destination.